Hi there! My name is Tim, a 42 year old, 235 pounds, 5'11" gay man with reddish stache and beard who considers himself a part of the bear community. My bear name is TimBearFlorida and I live in Melbourne, FL.
I was born in a little town called Spiro in Oklahoma. For those of you who don't know, Spiro is a very small town in the far southeastern corner of Oklahoma. Both my parents were teachers and so I was the teacher's kid which did not win me any friends. I went to a Baptist church like a good little kid, studied hard to make good grades, and worked at the local grocery store, John's IGA.
I graduated Valedictorian of Spiro High School in 1979. From there I went to Carl Albert Junior College and then Oklahoma State University and graduated with a BS in Chemistry in 1984. I had a 3.46 grade average which I later learned was one of the best grade point averages of any chemistry graduate in many years. This made me proud.
Well when I finally landed a job, I ended up in Muskogee Oklahoma, not too far away from home, working for Fansteel Metals. Fansteel refined Tantalum and Niobium used in electronic and medical components. It was a great job but lots of work. Then they closed the plant and I found myself without a job only 2 weeks before Christmas in 1989. That was one tough Christmas. Unemployment compensation managed to pay the bills for me but nothing more.
February brought me one of the greatest surprises of my life. I landed a job with CITGO Petroleum, in Tulsa Oklahoma, as a research chemist! In my mind, I had always had an idea of what the ideal job would be for me and this job was it. For 8 years I had the ideal job! I was essentially my own boss, got to do some limited research, developed new techniques and methods, participated in boards setting national standards, helped train new research assistants, and was in essence the assistant laboratory manager handling personnel and assignments from time to time.
This job allowed to buy a home and settle down. With security, I started to make a few friends and started making long range plans for my life. I love to help people and for over a year a family lived with me so that they could get back on their feet. I charged no rent and bought all the groceries. They were a blessing to have around. I got to know them very well.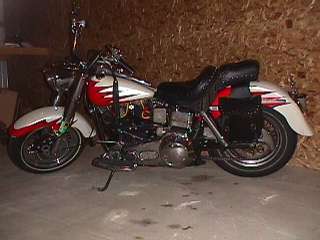 About this time I also bought and started riding a 1976 Harley Davidson motorcycle which I love. I bought it from Antique Iron in Collinsville Oklahoma, just north of Tulsa. It was supposed to have been restored but I had so many problems with it that I had to sink about another $1500 into just to be able to ride it. For a while, there was one street in Tulsa that I could point to 6 places and say "I broke down there... and .. there... and ... there". Finally able to ride some, I went riding with friend and had a blast.
But "a hairy friend" awoke me to myself. He said and I quote: "I am not gay but ...." :) I was 36 and it my first time ever. Even in grade school, I was attracted to men, especially if they were hairy. I always wanted to be near them. As I grew up, the attraction got even stronger. I remember looking at National Geographic magazines for hairy men and wanting to close to them. So when I first got on the internet in June of 1998, I began looking at gay websites and ran across a website where two bears, gay hairy men, discussed their life and coming out. Their stories were so like mine that I started looking at my life.
I had fought the idea of being gay because of my Baptist upbringing but I knew the Baptists were wrong about a lot of things so I started looking for other bear websites and before I realized it I had come to accept being gay. I came out to myself on June 12th of 1997 and my life started to change.
While searching the internet, I found a link and an email address for a gay man living in Tulsa who turned out to be one of the best friend a person could have, Fernando. He is very spiritual and very happy to be gay. We spent a lot of time talking and getting to know one another. During my coming out he was always there to listen and offer a shoulder to cry on. He and I shared a lot and I am very lucky to have him as a friend. :)
I then got into the #bearcave on the Internet Relay Chat(IRC) Undernet and started chatting with bears! My closest friends were bears that I met on there. Some of them got into the bearcave about the same time I did :)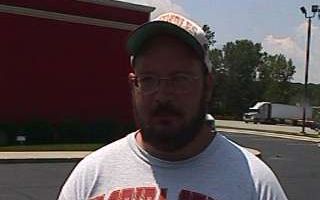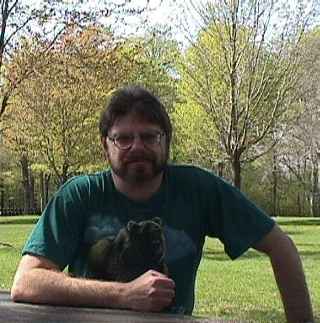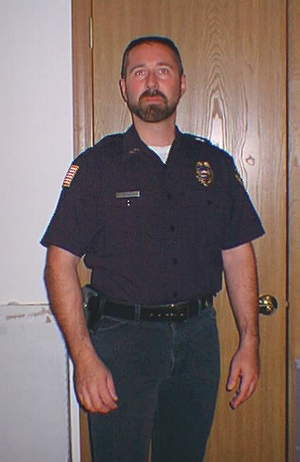 Bruce Greg(Pudd) Jim(Inkbear)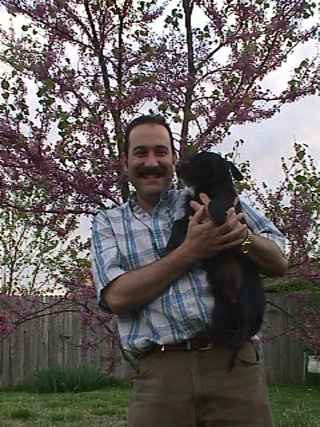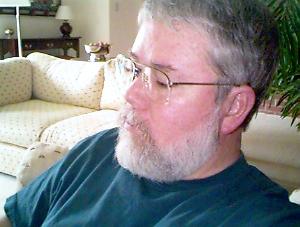 TTownCub(Fernando) UrsusMajr(Mark)
These people plus some others were very important to me as I came out to myself and to others. To all of you, and you know who you are, thank you from the depths of my heart. You are dear to me and worth more than all the treasures this world has to offer.
When I met Inkbear, also named Jim, in the bearcave and we started to talk, I realized very early on what a special man he is and that we shared a lot of spiritual beliefs. He reaffirmed my beliefs about God being loving and that the fundamentalists were abusing and deliberately misinterpreting the bible. When he came to visit me in Tulsa, we decided to go to Cathedral Of Hope in Dallas, TX. This church is a part of the Universal Fellowship of Metropolitan Community Churches founded by gays and lesbians based on the belief in a loving caring God.
Michael Piazza, the senior pastor, gave a sermon about building one stone at a time no matter what others say. This was God talking to me through him. When the sermon was over and we were visiting with some of his friends, and now mine too, Jim turned to me, pulled me over, and kissed me. He said "How many other churches can you do this in?" Gods Love, Jim's friendship, Jim's kiss which showed his loving heart, and the Cathedral Of Hope helped me settle the last issues about me being gay and Christian. The Cathedral Of Hope is my church even though I am not a member. As for inkbear, I consider him one of my very best friends and his friendship is a gift that he and God gave me at a time when I needed it most.
Shortly after that, I decided to come out to my good friend Jim, who was my riding buddy and at that time one of best friends. He did not take it well and told me "I am going to pray you out it." Well for reasons many of you can understand, who have been through something similar, he said no when I told him that I waned to tell his wife so I told him to let me know when I could tell her. One week later I got a letter from a pastor of a former church who I had worked for as a sound board operator/assistant Sunday School Director/ and general laborer. Basically he told me that I was under the influence of a demon and Jim and Kathy were "worried" about me. My Beliefs will help you understand that it is ok to be gay and Christian. I did not respond to his letter because he is not ready to listen to the truth of God.
As for Jim, I told him that if I could not trust him then there was no friendship so I ended our friendship. During our friendship I had given him and his family over $12000 to help with legal bills to keep Jim out of jail and money to help them in times of trouble and turmoil. As you can imagine this was a difficult time for me. But there were good times as I continued to meet other gays from Tulsa and from the bearcave. Some dear guys I met during this time were: Bibbles, BusterBr, PABeary, DFWBgBear, TKnDallas, TxBearFW. PaBeary and I got to be very close friends as we talked over the phone at least 2-3 times or more per week! I hold very special places in my heart for Bibbles and DFWBgBear each is a sweet man that helped me when I need it most.
I even worked at the Pride Center in Tulsa, Oklahoma. I volunteered on Monday nights where I answered the phones, hosted events as needed, and visited with any gays or lesbians who came to the center. Most of the calls were to find the local gay/lesbian bars but some were for assistance or information about HIV/Aids.
But then difficult times continued in February of 1998 when I got the message that CITGO Petroleum was downsizing. We went to work one morning, were all herded into a small room, and sent one by one to different offices to find out our fate. When it came my turn, I was told that CITGO Petroleum no longer had a job for me. So I started a search for another job. Alas nothing came along. I am still looking for a good job check out my resume and send me any suggestions!
But in March of 1998, I talked with TraceBear on the bearcave. He posed the question in the cave "Are there any Christian Bears in here?" and I answered "I am". The rest is history. I sold my house, left Tulsa, and moved to Michigan to be with him where we lived together for 2 years. Forrest and I eventually moved to Melbourne, Florida after he lost a couple of jobs and one opened up down here. Our relationship fell apart after moving down here and now we are separated and just good friends. I wish him well in all his endeavors.
I am living with my best friend and one of the kindest men to ever cross my path. He says and I believe him, "that ever things happens for a reason." I met Eric shortly after TraceBear and I moved down here. He goes by EJBear and if your get a chance to meet him or talk to him you will understand why I consider myself a lucky bear to have him.
After reading this I would love to hear from you! Check out my contacts page to find out how to reach me. Hope to hear from you soon!
This site is a member of WebRing.
To browse visit Here.